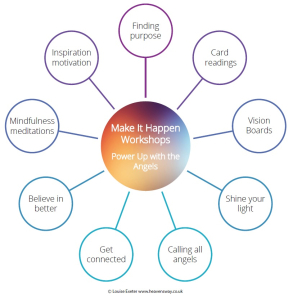 Friendship of Angels.

Learn More. Love More. Trust More. Fear Less.
Power up with the Archangels Make it Happen Workshops
What would you like to change? What size are your dreams?  I've found Heaven likes us to dream big towards the joyful potential of who we really are.  Archangel Michael leads the way in these motivational workshops, bringing fresh energy and focus to amp up your intentions and give your heart wings!  Become inspired by different 'Angels of Purpose' Each season we'll be working with specific Archangels on different 'Soul Goal' themes to connect with your inner-most feelings, ignite the process of positive change, step out from limiting self-beliefs and procrastination into a journey of heart centred motivations and joyful fulfilment. Workshops will include meditations, card readings, your own vision boards and more.  So what are you waiting for? Don't fear your potential. Find it! 'The energy, the soul, the spirit that you infuse into your actions matters'! Come with a friend or partner.  Share the fun and connect with these delightful Divine beings.
References: Quotations: Kyle Gray. Marie Forleo.
Fire up your passion. Follow your purpose with Archangels Michael and Chamuel.
17th August 2019 & 12th October 2019.
Change and Transition. Opportunity or Challenge? 
Release to achieve with Archangels Michael and Azrael.
New Year 2020 – dates to be announced
Location: North London N14.  Time 10.30am-2.30pm.  Price £80.00 p/p
"I found Louise Exeter's workshop powerful, uplifting and a truly enjoyable experience. Thank you Louise." – Donna
"I found the workshop amazing. I'd had a bad week leading up to the workshop and felt very negative and low when I arrived, by the time I left I felt uplifted, calm and hopeful.  I have already recommended the workshop to other friends . . . there is something very special about group work." – Catherine
Mini Workshops – are you ready to start the conversation?
It's on the cards! If you would like to find out more about working with the Angels but feel a little unsure about a full workshop at this stage – why not try my Card Reading Mini Workshops. Angels. With us every step of the way!