Build a closer relationship with my Angel Conversations Workshops.
Bring Friendship of Angels into your every-day life with my personal card reading service.
Take positive and loving control of where you are going.
"We are here for you and you are here for us"
With Love, from inspiration and guidance, to insights and empowerment. The cards are like a 'Divine Compass' helping you steer through past issues with compassion and navigate present choices with positive and healing perspectives.
"We will help you struggle less, achieve more"
Card readings help you find your own voice in your own life story; get better aligned with your sense of purpose, obtain clarity on current issues and support assessing where you've come from and how best to move forward.
Make choices your present and future self will be thankful for.
Good Together!  Angels help us help ourselves. With us every step of the way, establishing a personal relationship with them helps us step out of self-limitation, flourish and shine.
Are you ready start the conversation?
Price: Full session with meditation (1.5hrs):  £55.00 – readings are conducted over Zoom. You can also find me as an Advanced Angel Card Master listed on Kyle Gray's website. Here's the link.
Just email or call to book a reading.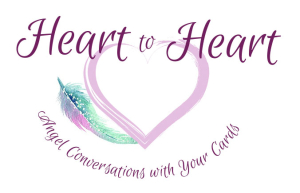 NOW AVAILABLE!
In this new workshop you will RE-AWAKEN your LOVE AFFAIR with angel oracle cards. REFRESH YOUR RELATIONSHIP with them by going DEEPER, LOOKING CLOSER and RE-PURPOSING YOUR PURPOSE through their Divine Conversations
"Thank you Louise for my amazing angel card reading. It was such a beautiful message that lifted my spirit and manifesting vibes. I have continued to welcome and ask my angels to help me with my work. And most importantly I feel reconnected once again." –  S.C.
"Louise is a motivational speaker for the angels her enthusiasm is genuine in the work that she does. I had an Angel Reading with Louise and she was very supportive and patient as it did bring up some experiences.  Her reading enforced the fact that we are never alone we just have to reach out and ask the Angels."
– Shirley
"Thank you for a wonderful session-it was very beautiful and has helped me clarify some things especially as I re-read the Journal last night. I really appreciated your calm guidance and reassurance as we moved through the session especially when I hit a block or sticking point. You clearly have the gifts needed for this sort of work".
– Louise E.
"I found Louise Exeter's workshop powerful, uplifting and a truly enjoyable experience. Thank you Louise." – Donna
"I found the workshop amazing. I'd had a bad week leading up to the workshop and felt very negative and low when I arrived, by the time I left I felt uplifted, calm and hopeful.  I have already recommended the workshop to other friends . . . there is something very special about group work." – Catherine
References: Quotations: Guardian Angel guided messages. First quote: 'Messages from Margaret' by Gerry Gavin.
Angel Card Copyright: The Guardian Angel Oracle by Chrissie Astell, Watkins Publishing.
I am registered as a Certified Practitioner and Card Reader on Kyle Gray's official website: https://www.kylegray.co.uk/practitioners/louise-avril-exeter