Friendship of Angels.
Learn More. Love More. Trust More. Fear Less.
Power up with the Archangels Make it Happen Workshops
What would you like to change? What size are your dreams?  I've found Heaven likes us to dream big towards the joyful potential of who we really are.  Archangel Michael leads the way in these motivational workshops, bringing fresh energy and focus to amp up your intentions and give your heart wings!  Become inspired by different 'Angels of Purpose' Each season we'll be working with specific Archangels on different 'Soul Goal' themes to connect with your inner-most feelings, ignite the process of positive change, step out from limiting self-beliefs and procrastination into a journey of heart centred motivations and joyful fulfilment. Workshops will include meditations, card readings, your own vision boards and more.  So what are you waiting for? Don't fear your potential. Find it! 'The energy, the soul, the spirit that you infuse into your actions matters'! Come with a friend or partner.  Share the fun and connect with these delightful Divine beings.
Workshop Programme 2020

Simply Divine! All the Workshops focus on building a series of bright and beautiful acquaintanceships with individually illuminating and transformative Archangel energies as we progress through the year. CLICK on any of the workshops below to get more information or book a place.
Date: TO BE ADVISED
Time: 11.00am – 3.00pm
Price: £85.00
Venue: North London N14
Date: TO BE ADVISED
Time: 11.00am – 3.00pm
Price: £85.00
Venue: North London N14
ARRANGE YOUR OWN WORKSHOP!
Time: 11.00am – 3.00pm
Price: £85.00 per person
Venue: North London N14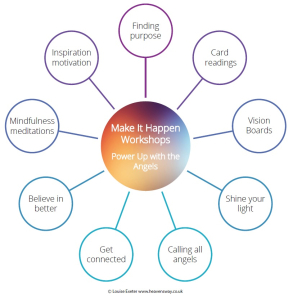 If you would prefer to pay by cheque, bank transfer or cash, please email Louise (louise@heavensway.co.uk) and she will send full details.
"I found Louise Exeter's workshop powerful, uplifting and a truly enjoyable experience. Thank you Louise." – Donna
"I found the workshop amazing. I'd had a bad week leading up to the workshop and felt very negative and low when I arrived, by the time I left I felt uplifted, calm and hopeful.  I have already recommended the workshop to other friends . . . there is something very special about group work." – Catherine