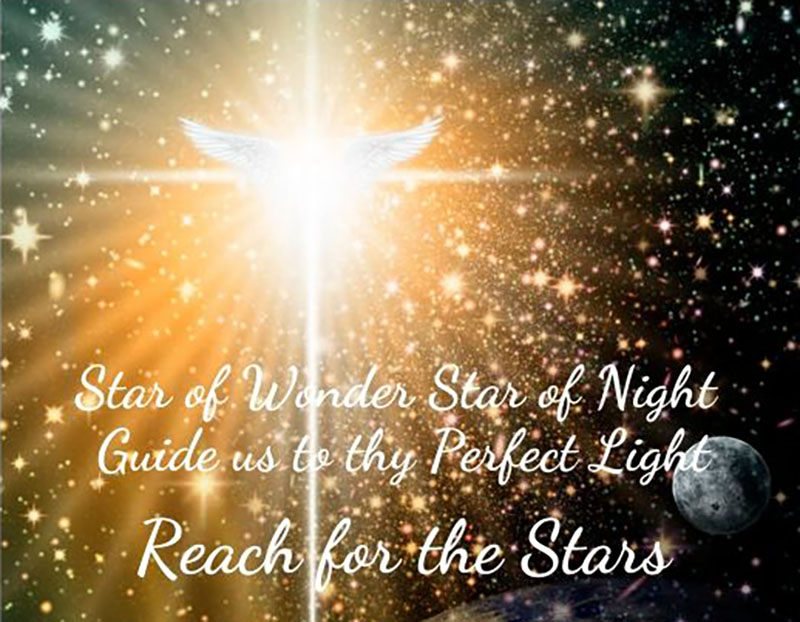 Are You Following Your Star?
"WE ARE STAR DUST. WE ARE GOLDEN"
We are part of the stars and they are part of us.  Stars are in our DNA. It's a scientific fact. How beautiful is that!  To me, there is something magical, wonderful and inspiring about this cosmic connection!
 THE STARS CARRY A STORY TOLD THROUGH LIGHT [1]
Let Love reach you!  Stars and Angels are both cosmic messengers from the heart of the Universe. Travelling on wavelengths of brilliance, the Angels come with gifts of love from Source, to high vibe the sacred space of our hearts.
WHAT'S YOUR SIGN?
Light up the dark: "Since the dawn of civilization we've peered at the stars in the night sky and tracked the movements of the planets" [2] and many of us enthusiastically follow our personal 'Zodiac Signs' for guidance.  "We are surrounded by stars but some are more special to us than others"! [4]  How well this links with the Christmas story of the 3 Kings following the shining comet all the way to the stable at Bethlehem to honour the 'Infant King.
ARE YOU FOLLOWING YOUR STAR?
"Star of Wonder, Star of Night, Star of Royal Beauty Bright,
Westward Leading, still proceeding, guide us to thy Perfect Light"
Let Love lead you. You too can follow your own star of higher purpose; Angels know that when you follow your star, you find your joy.  Ultimately, we all need to find our own way but – like the Magi – we too can be guided by the Light.
 "OUR GALAXY IS A SYMPHONY OF LIGHT" [3]
The esteemed Professor Brian Cox tells us that "There's an orchestra of stars out there that resonate with music and light. What a lovely combination. Angels love music! The Christmas story goes that Archangel Gabriel and a multitude of Angels filled the night sky with music, light and song; astonishing the shepherds in the fields below.  Angels still send signs and messages through this medium as a way of communicating with us.
DO YOU HEAR THE CHRISTMAS ANGELS?
"Their great glad tidings tell" If you accept the premise of Angels, you'll know of their love of joy and happiness. It seems there was a lot of Heavenly partying going on to announce and celebrate the unconventional birth of 'Unconditional Love' in human form over 2000 years ago!
GOING THE DISTANCE
Like the Magi, for each one of us there is a desert to travel, a personal star to follow and hopefully joy to be discovered.  Be inspired!  If 3 wise men could take risks to reach this small child of Hope in Bethlehem by putting their trust in a guiding light and listening to their own star song for a higher good – so can we!
REACH FOR THE STARS
Light up your heart Brian Cox tells us that "Each star has its unique own song vibration" – you also have this. When you reach for the stars you are reaching out to the Universe (of which we are all part). When you follow your heart, you follow your Star's Purpose and by doing so, you connect to the inner glow of your own song.  Your Angels will help you shine for this!
CALL TO ACTION
WISH UPON A STAR
Twinkle Twinkle Little Star How I wonder What you are.
When we star gaze, mysterious beauty twinkles back at us from a great distance, stirring our immaginings –  who can resist wishing upon a star at some point? It's certainly not too late to do so now!  As Jimminy Cricket says: "it makes no difference who you are …if your heart is in your dream, no request is too extreme…when you wish upon a star".  Angels understand this! So, with peace and love in your heart, go find your star – take a few moments, listen to some beautiful music, stand with your Guardian Angel and make a Christmas wish.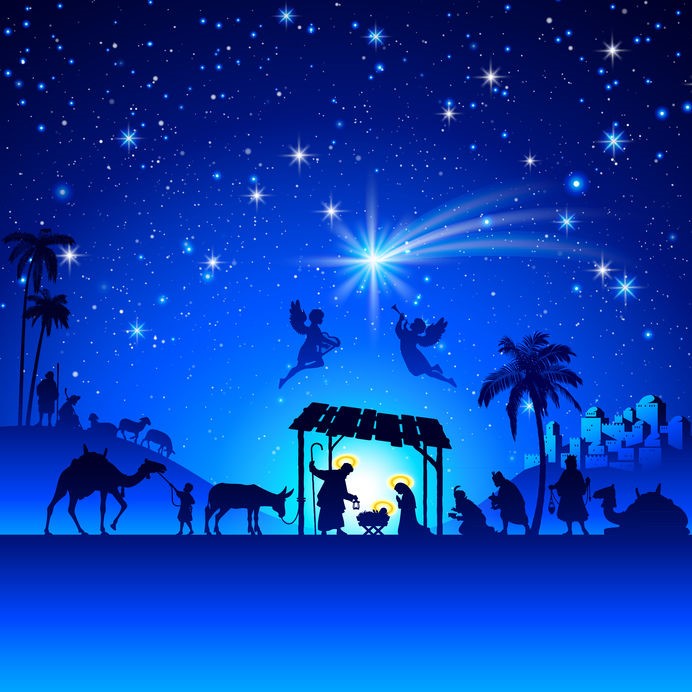 LET LOVE SHINE THROUGH
 "What the world needs now is Love sweet Love".
Whatever your beliefs. Angels are for everyone and so are the blessings of the Christmas message, for all time.
"Oh Little Town of Bethlehem how still we see thee lie.
Above they deep and dreamless sleep, the silent stars go by.
Yet in the dark street shineth the everlasting light,
The hopes and fears of all the years are met in the tonight.
Oh morning stars together proclaim the holy birth and
praises sing to God the King and peace to men on Earth."
Wishing you all a very Happy Christmas
Louise Exeter
Copyright December 2019
References:
Quotations: (1), (2), (3) Professor Brian Cox:
Quotation (4)  EarthSky.org
Music Inspirations:
We are star dust we are golden: 'Woodstock' Matthews Southern Comfort Band.
Carols: We 3 Kings of Orient Are & O Little Town of Bethlehem.
Wish upon a Star: Jimminy Cricket (Cliff Edwards) Disney Studios.
Nativity image copyright 123RF
Shine: Emile Sande